The
SPC
has upgraded their convective outlook to "slight" for today.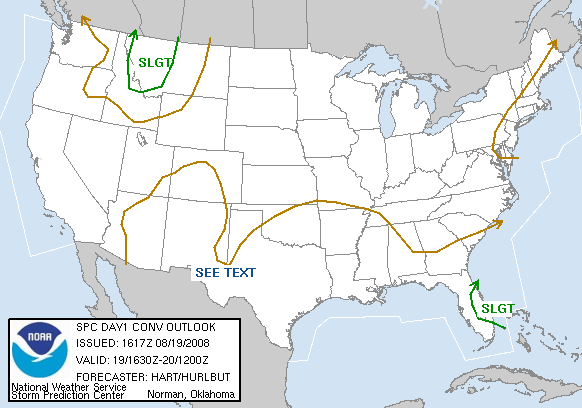 I've taken a few minutes to look at the setup today.
On a large scale, a shortwave trough is currently moving through the area. This one has a little more punch to it than the "perturbation in the flow" type of systems we see in Colorado during the summer. The upper level low is located in Alberta and this shortwave exists as a "spoke on the wheel" so to speak. With the wave, there is a reasonable amount of mid level moisture and some decent lift as evidenced by the severe weather in Washington and Oregon yesterday.
At the surface in Western Montana, dewpoints are rather meager. The models (RUC 16Z and ETANAMWRF 12Z) seem to be overestimating the moisture at the surface. Dewpoints range from upper 40's in the northwest corner of the state to mid 30s in the higher terrain.
The cold pool associated with the shortwave should inspire some steep lapse rates, so terrain driven convection today is likely. In fact, some cu is beginning to form over the mountain ranges in Western Montana (not unusual for a summer day). However, with the lapse rates, and the propensity for lift from the upper level system, we could see some severe weather today. CAPE tops out at 1500J/kg and the wave will pretty much negate the cap, especially with the strong surface heating already evident.
Shear isn't exceptional, so I don't expect supercells. However, we could see some storm complexes form (possibly even linear mountain waves carrying the threat of high wind later in the day.) Earlier development should be more of single cell pulse storms capable of large hail. With tower height, updraft speed, and a lower 0ºC level the hail garden will be nice and fertile.
Tornado threat seems very minimal. Topography would have to be perfect to have a cell organize in that matter. ... while not impossible, the threat is very unlikely.
Heavy rain threat will exist with stronger storms or storms traveling over the same areas. However, most of them will be moving fairly quickly and preciptable water values are generally just over a half inch.
We will probably see a severe thunderstorm watch issued (that's my guess) at 2PM local time and also will probably see half a dozen hail and wind reports spread out across the western half of the state today.
Dann.